Exportlawblog: It must be a slow day at CPB. They find and seize two 50-round boxes of ammo in a container of household goods on their way to Honduras and then issue a press releasecongratulating themselves on saving the United States from imminent destruction and doom. CPB Houston Port Director Dave Fluty could scarcely restrain himself:
These types of seizures represent our vigilance and commitment to protecting our nation by enforcing the laws and regulations on behalf of many other federal agencies.
Because, obviously, these 100 bullets would wind up in the hands of Honduran criminals who would sneak back into the United States with them and wreak havoc.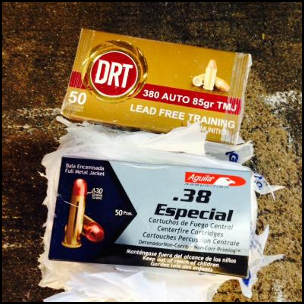 ABOVE: Ammo Seized by CPB
What makes the hoopla over 100 rounds of ammo even more interesting is that CPB gets the law wrong:
Permanent or temporary export of ammunition via shipping container requires the exporter to register with Department of State's Directorate of Defense Trade Controls who [sic] has published a [sic] guidelines for firearms exports.
No, no and no. Section 122.1(a) of the International Traffic in Arms Regulations requires registration by any person "who engages … in the business of … exporting defense articles." Section 123.17(e) permits the export without a license of up to 1,000 cartridges for nonautomatic firearms without a license provided that the cartridges are "for personal use and not for resale." To say that this exception for limited ammunition exports for personal use can only be used by individuals who register as a business is not only wrong but absurd.